Overcoming addiction isn't a simple journey. There are many steps involved in recovering from substance abuse, and every person's process will look a little different. In many cases, drug cravings persist for long periods after rehab, and dealing with them alone can incredibly difficult. As a result, some people choose to stay in sober living homes until they're ready to move forward.
What Is a Sober Living Home?
Sober living homes, also called halfway houses, offer a substance-free environment, a strong sense of community, and a clear end goal to help people in recovery transition back into everyday life. For many people, it is the first step after an intensive recovery treatment program. 
1. A Drug-Free Home Environment
First and foremost, sober living homes offer a safe space for individuals to live where alcohol and other substances will not be accessible. Like the name implies, living clean and sober means there are no abusive or addictive substances around.
Primarily, this minimizes risk of relapse, and also discourages the cravings that plague many individuals post-rehab. This continuous absence of accessible substances promotes individuals to live day-to-day without them, and normalizes the idea that addiction can be conquered completely.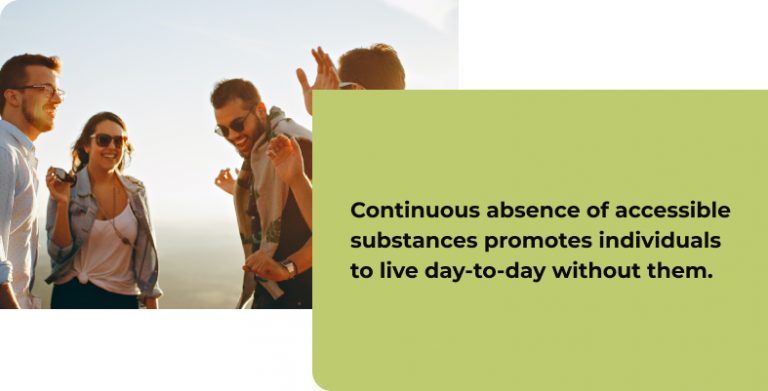 Without access to substances, individuals at these homes can start to see the benefits of life without the drawbacks of a dependence. This primary aspect persists in all types of sober living homes, and is one of the most defining features.
Though it might seem simple, the tactic seems to work. One study, which observed 300 individuals who participated in sober living, found that individuals' substance use either decreased or stopped outright. While it might seem like magic that simply removing access to a substance means individuals stop craving it, there are many other factors at play in these homes.
2.  A Place for Living Sober, Together
As part of living clean and sober, the community aspect may also have a major contribution to the improvement of individuals who participate. Since nearly everyone who resides in a sober home is working towards living sober, strong connections between individuals often form.
 People who are working toward the same goal and experiencing similar challenges can find a lot in common with one another, bonding through a sense of a shared experiences. The social support that develops in sober living homes may be a major contributing factor to the success of sober living homes, and it also results in strong social bonds and better connections after rehab.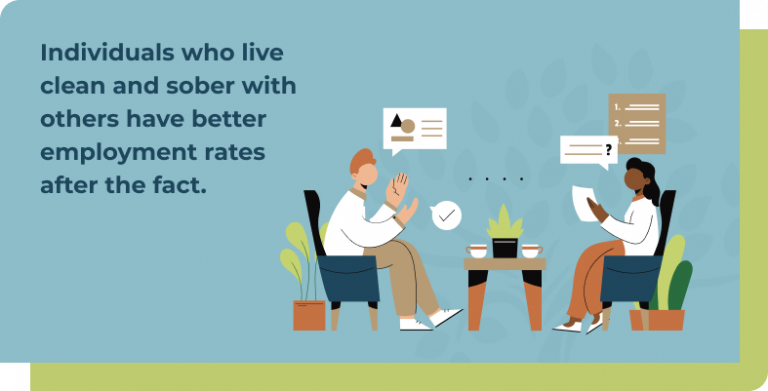 Living together with like-minded individuals and making daily connections with others may also have drastic improvements on residents' social skills. In the same study of 300 individuals, results found that those same people improved in areas including employment, mental health, and arrests.
Employment might be a recovering individual's biggest hurdle after completing rehab, and this study suggests that individuals who live clean and sober with others have better employment rates after the fact. Additionally, improved mental health might suggest that sober living homes improve individuals' overall wellbeing, something that will be crucial after dealing with an addiction.
3. A Space To Make A Fresh Start and Set Clear Goals
In most sober living homes, the structure matches that of a casual set up. Rather than being a strict schedule with clearly defined rules and unforgiving regimens, sober living homes usually have a manager or single leader who keeps the house running from day-to-day. With this setup, the stress of maintaining a forced consistency evaporates, and residents can focus more on just living individually and getting back to a sense of normalcy.
Other home setups may have individuals take leadership positions in "residential councils," where daily jobs are assigned to specific people and a sense of responsibility can be achieved.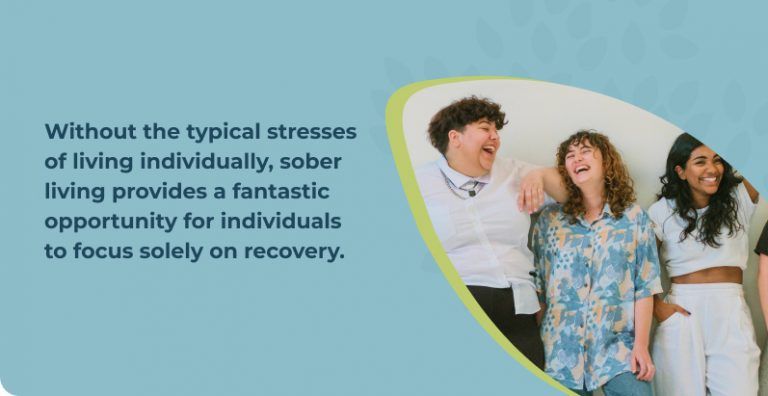 While this kind of setup for might seem too casual to cultivate improvements, the low-pressure environment might be exactly what a recovering individual needs to get back on their feet.
Without the typical stresses of living individually, sober living provides a fantastic opportunity for individuals to focus solely on recovery. Whatever the key element might be, the formula that most homes employ seems to work exceptionally, with plenty of positive numbers to show for it.
Sober Living and the Recovery Process
A "halfway house" might be the best last step for your treatment journey, or it could be just a part of it. No matter how or when sober living homes are implemented into recovery, the important part is that they work.
By fostering a substance-free environment, emphasizing social connections, and cultivating personal improvement with a low-stress living space, sober living homes are promising steps to take along the journey to lifelong sobriety. At NACA, are here to ensure you get the best possible treatment for you, and our programs are fine-tuned to serve individual recovery needs.